Set It Off isn't your average auto body shop. It all started with a name. The name was important because Josh Hodge, the owner, didn't want it to be like Bob's Auto Body Shop or Fred's Fender Fixers. He wanted to set his shop apart from the competition - the way his work sets itself apart. He wants your vehicle to stand out in a crowd. He wants to Set It Off.
In the industry for nearly two decades, Josh - a husband and father of two - runs his business the way he leads his life - with good Christian values like honesty and helping one's neighbors. Our shop is small and our techs put a priority on quality, customer service and good ole' fashioned honest dollar for an honest day's work.
Whereas many shops seek to become contract DRPs with insurance companies  - putting those relationships first, cutting corners where requested to save insurance companies money - Set It Off puts the customers needs first, thriving on a small-town approach of quality and customer service.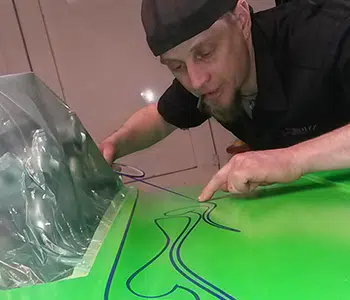 Josh
Josh marches to the beat of his own drum. Where most auto body shop owners are in the office watching the bottom line, he keeps his eye on the work being done in the shop, insisting on quality and putting his touch on every car that comes through the shop, helping out wherever is needed to ensure your experience is the best it can be.
Shelby
Office manager Shelby will greet you at the door with a warm smile and some home-cooked food if you're lucky. Be it going to bat for you with insurance companies, finding the right parts, or just listening to how your car got its boo-boo, bilingual Shelby is ready to help. Bring your fishing stories!
Geoff
Head tech Geoff can fix anything, yet is as modest as you can expect from a seasoned auto body guy. Husband and father of two, Geoff enjoys motocross and hot rod fabrication, when he can get away from junior hockey and Frozen reruns.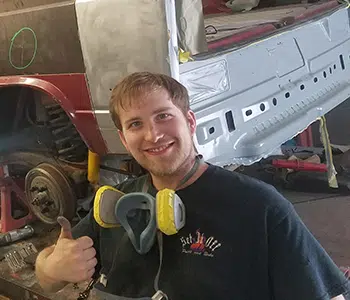 David
David has been here from the beginning and has grown in skill along with the shop. Having dealt with ridiculous engineering on vehicles for years, David is now on his way to earning an engineering degree to change the industry from within.
Derek
Derek is our newest tech, starting as shop detailer and clean-up crew but quickly becoming a top tech. An adventurer and an outdoorsman, Derek loves a good time, be it fighting the mighty Poudre in a kayak or spending the summer "camping" in the back of his truck.
Zach
Zach grew up working on cars as many in this industry did, but he's truly an artist at heart. Currently working to restore a 1968 Firebird with his dad, Zach also has a passion for photography and is a skilled mixed media artist.